Dan is a freelance illustrator, animator and icon designer living and working in London. He creates colourful, playful, character-based illustrations across a range of different platforms and mediums, including Joto! — Here are 9 questions to find out more about his work, inspirations and future plans:
How did you first get into illustration?
I've always loved drawing, but for a long time I just considered it a hobby and assumed you couldn't make a living off it, so I focused my attention elsewhere. It wasn't until I was coming to the end of my A-Levels that I found out my college offered an Art Foundation course. A free extra year of education doing just art and design, or into full time employment at the Golf Club I was working at? Seemed like a no-brainer so I enrolled and I've never looked back.
How would you describe your style?
I always struggle to find a good way of describing my work, I guess you could say it's quite cartoon-like. I like to give my characters expressive faces and enjoy using humour in my illustrations, but the execution is quite neat, I like to use clean, tidy lines and symmetry, so in some ways I feels more a designer at times. It fits somewhere in between I think.
What's the inspiration behind the work that you create?
My biggest influence/inspiration comes from the cartoons I grew up with in the 90's: The Simpsons, Hey Arnold!, Rugrats, Doug, Agh! Real Monsters etc. I'd spend hours sat in front of the TV watching Nickelodeon with a stack of paper and felt tip pens creating my own comic books and cartoons.
I also loved the Where's Wally books, I'd spend so much time studying those scenes, I loved the attention to detail and all the funny slapstick jokes hidden amongst the illustrations.
How do you keep developing your creativity?
It happens quite organically, I think. I'm really fortunate to be able to do illustration full time, so creating work day in day out means my style evolves naturally over time.
Making tiny little changes, like the shape of the eyes or how the shoes are drawn means the style gradually changes without me really noticing. It's quite amazing when I look back on some of my work from a few years ago and how much things have changed.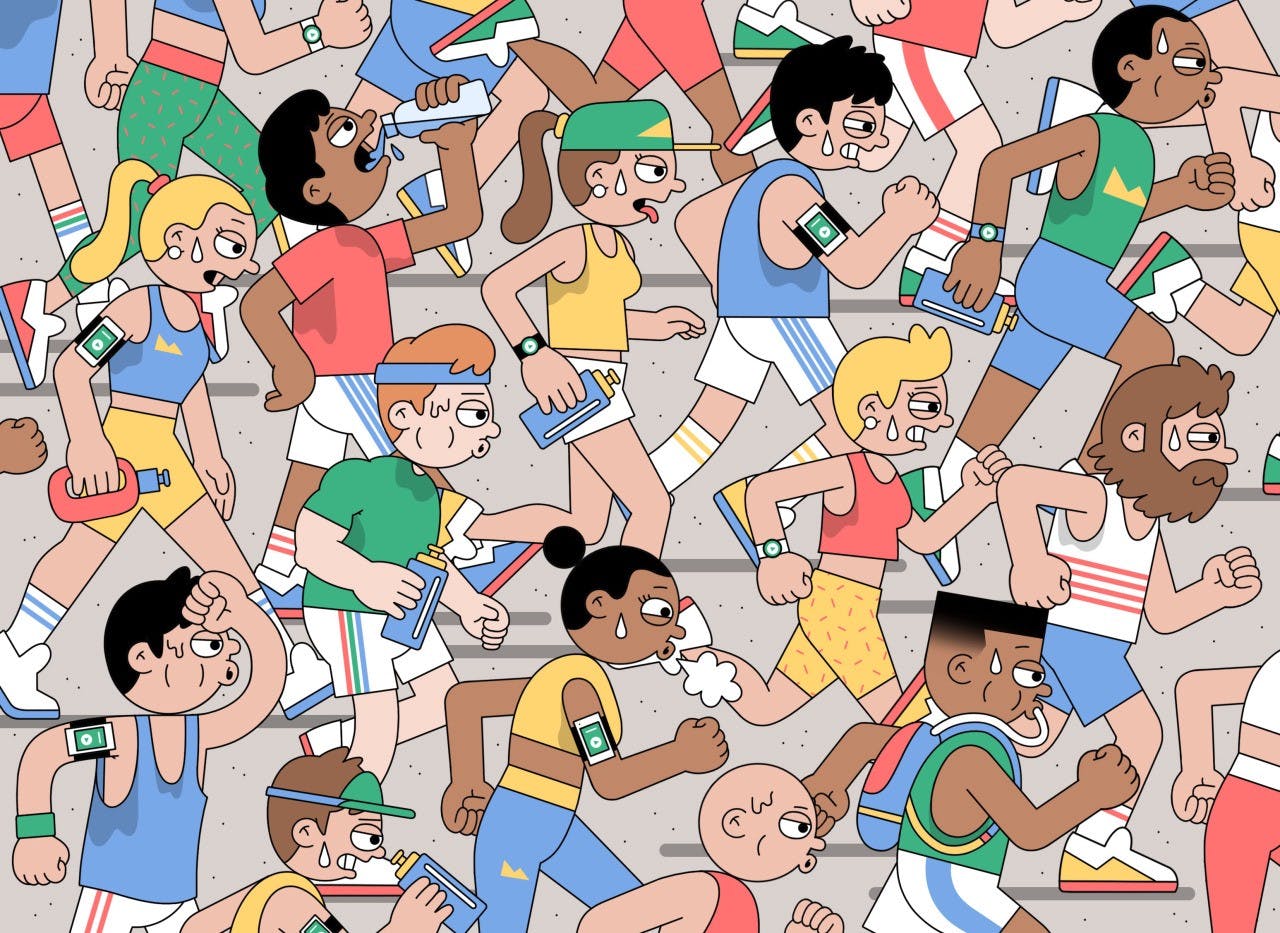 How is your design process like, where do you start?
For single character illustrations, I start by sketching out the initial idea twice. First really loosely, I'll scan that loose sketch into photoshop, clean it up a little, drop the opacity to about 20% then print it. I'll then sketch over the top of that print out to try and solidify the composition. Scan it in again, drop the opacity to 20% again and then trace my sketch with the pen tool in Photoshop. Once I have the line work complete i'll just fill with colour using the paint bucket tool — kind of like paint by numbers!
When working on a crowd scene I approach it a little differently, First I'll sketch out a rough composition, but then instead of sketching all the characters in situ, I sketch them out individually on a separate sheet of paper. I then scan both the loose composition and the individual characters into Photoshop. Then one by one, I cut and paste each individual character into position in the composition in layers, so basically its kind of like piecing a puzzle together, I'll keep moving the characters around until I'm happy with the composition.
What tools do you use for your work?
It's pretty minimal really, which it means I can work anywhere. I just use basic pencil and paper for the sketches, I then use either my scanner in the studio or the Turboscan app on my phone to upload it to my computer / laptop.
Once I've uploaded it to my computer, I use a Wacom tablet to trace the sketch in either photoshop or illustrator.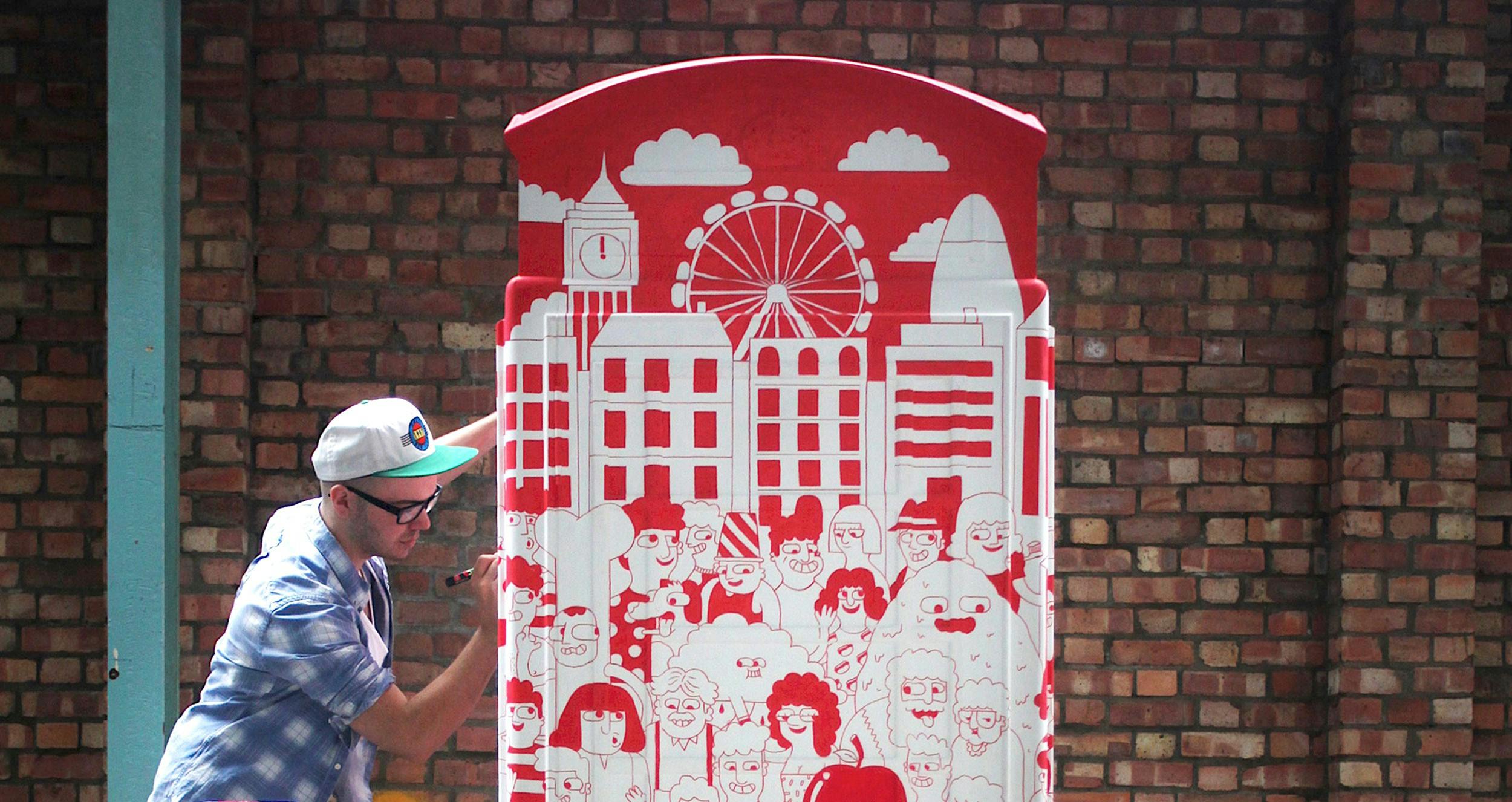 What has been the most enjoyable/challenging work you have done so far?
Hmm, tough to pick out just one most enjoyable project, I've been really lucky to work on some interesting and fun things over the last few years. I've painted on a giant lunchbox in Covent Garden, decorated a classic London telephone box and got to fly to Canada to draw smiley faces on Pepsi cans! However, above everything, I absolutely love working on editorials, I really enjoy the concise process of reading the article, of coming up with the idea and executing the final piece.
The most challenging project was without a doubt the LINE emoji project, it was enjoyable, but by far the most amount of work I've ever turned around in such a short period, 1000 emojis in 10 weeks!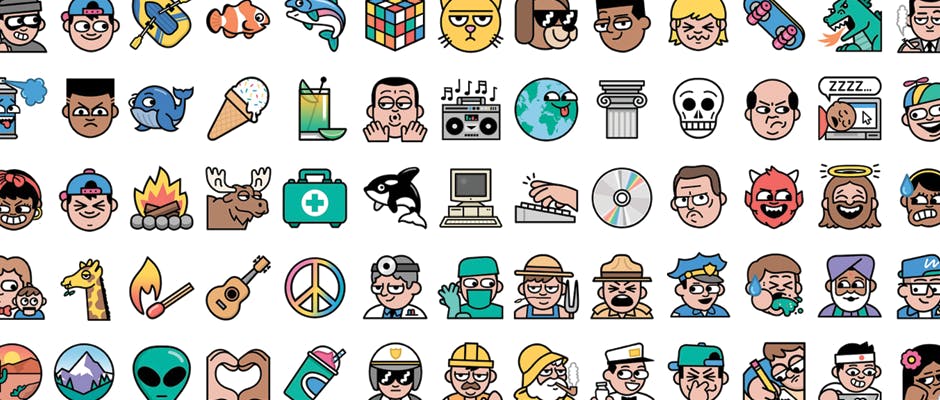 Any future projects you'd like to share with us?
I have a few really fun projects in the works at the moment actually, I've just started working on a pilot for an animated show, I'm working on my first book and am in the middle of a couple of really fun client based projects, so 2017 is looking pretty exciting!
And of course, what do you think of Joto?
Using Joto to write messages really excites me actually, my girlfriend and I have a white board at home that we leave little messages and pictures on for one an another, we also have a joint calendar on our phones, so I love the idea of one being able to combine these with Joto. Plus the practical jokes would be really good. The idea of sending a drawing to the Joto board whilst she's sat at home cracks me up!
If you've enjoyed Dan's work, you'll be pleased to hear he's created another exclusive Jot to be drawn by Joto. Keep your eyes peeled!